"The Apollo Saturn V 500F Facilities Test vehicle, after conducting the VAB stacking operations, rolls out of the VAB on its way to Pad 39A to perform crawler, Launch Umbilical Tower, and pad operations." NASA photo, May 25, 1966. The SA-500F went on to have an eventful life after death.
Every few years or so, an old spacecraft or spacecraft concept appears and reappears on the Internet and becomes so ubiquitous, it almost becomes a meme. This blog has already gone into excruciatingly intense detail about the Soviet space shuttle that couldn't: Buran. We all know Buran has appeared hundreds of times on social media, message boards, in my life, etc. Lately this ubiquity has extended to the SA-500F, the Saturn V facilities verification vehicle, and other sometimes upsetting mutations of the Saturn V and Saturn rocket family.
This blog post by John Duncan, who has been running the Apollo Saturn Reference Page since 1997, goes into great detail as to why the SA-500F has traumatized generations of space enthusiasts. This iteration of the Saturn V existed for an essential, serious reason: rolled to Kennedy Space Center's LC-39A in May 1966, its purpose was to validate the facilities, fittings, tank loadings, and other vital support operations concerning the moon-bound rocket. However, Duncan wrote of the SA-500F's more sinister second life: "The much photographed first stack would set the appearance for millions of toys, model kits, posters, and dog chew toys for decades, even when just a few minutes of research would show that the actual flying versions were different."

"Sigh. I'm just going to stand here, wait for the measles, and for this fake ass rocket to go off." "Thomas Mattingly" (actor Gary Sinise) in 1995's Apollo 13 movie.

One sighting that proved to infuriate nerds for the last couple of decades included the launch scene in 1995's Apollo 13 movie. In the film, a dejected Thomas K. Mattingly (played by Gary Sinise), having been axed from the mission at the last minute due to measles exposure, watches what looks like the SA-500F launch from KSC. In addition, Mattingly appears to be about a mile or two away from the launchpad, which was really not the best place to be during a Saturn V launch, but that's probably an issue best left to another blog post. (The real-life Mattingly eventually did fly to the Moon in April 1972, aboard Apollo 16.) While the 500F was ultimately dismantled, it continues to live its very best life in the form of that popular movie, restaurant signs, and mass-produced model kits.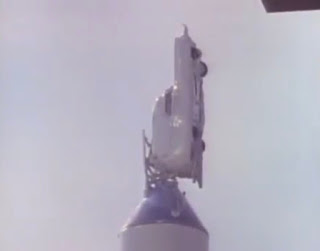 Last four photos are screenshots from SCTV. Guy Caballero (in wheelchair) introduces Red Rooster to his anti-Soviet deterrent.
A few other…very unusual Saturn family configurations have appeared online and in pop culture, bound to lead to serious emotional problems for more particular space fans. Here are two that I found especially hilarious. A 1981 episode of Second City Television (SCTV) called "CCCP1"hinges around the premise that the Soviets have hijacked SCTV's satellite signal in a bid to bring their programming to the United States. About 50 minutes into the episode, station owner Guy Caballero and Red Rooster discuss ways to subvert the Soviets' plot in a control room. Caballero reveals a very badly painted Saturn V/IB (??????) with a p
ayload on board to counterattack the Soviets, and boy, it is ugly AF.
Space Shuttle concept art, 1972, from the San Diego Air and Space Museum.
My favorite Traumatizing Rocket of All Time is this Shuttle/Saturn hybrid from 1972. A large number of Space Shuttle concepts were bandied about before its "orbiter/stack" design was solidified, and this one with a single rocket and a small orbiter is pretty entertaining, if devastating to some purists out there.
Thanks to John Duncan and Al Petrie for inspiration.
EXTRA SPECIAL EDIT/ADDITION: The super insane 500F/Skylab (1973 postal cover). The 1970s ruined everything! Found on eBay and supplied by John Duncan, many thanks!
---
Emily Carney is a writer, space enthusiast, and creator of the This Space Available space blog, published since 2010. In January 2019, Emily's This Space Available blog was incorporated into the National Space Society's blog. The content of Emily's blog can be accessed via the This Space Available blog category.
Note: The views expressed in This Space Available are those of the author and should not be considered as representing the positions or views of the National Space Society.