Miles O'Brien has kept space in the forefront for millions of people by reporting for many years with CNN, PBS and his own company. To honor his achievements, the National Space Society (NSS) has named Miles O'Brien the 2019 recipient of NSS' Space Pioneer Award for Mass Media.
The prestigious award will be presented to Mr. O'Brien at the Society's 38th annual International Space Development Conference (ISDC®), to be held in the Washington DC area at the Sheraton Pentagon City Hotel from June 6-9, 2019. NSS invites the public to come meet, interact and learn from Miles and attend his award ceremony.
For more information, see: isdc2019.nss.org.
In the very fast paced space field Miles is covering, now transitioning to a partly government, partly private program, his accurate and detailed articles and reports in multiple venues have helped the space community keep track of what did happen, what is happening, why, and what the result may be. He is not afraid to cover controversial topics and that coverage is often invaluable. He covers more areas than just space policy and that gives him a good perspective on how the human space enterprise fits into other global activities. As a private pilot, he has a much better feel for human spacecraft operations than most non-technical reporters. Much of his initial career at CNN took place during the shuttle era, and Miles covered many stories that dealt with different aspects of the shuttle program.
About the Space Pioneer Award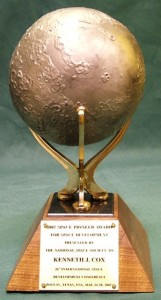 The Space Pioneer award consists of a silvery pewter Moon globe cast by the Baker Art Foundry in Placerville, California, from a sculpture originally created by Don Davis, the well-known space and astronomical artist. The globe, which represents multiple space mission destinations and goals, sits freely on a brass support with a wooden base and brass plaque as shown at right. The support and base are created by renowned sculptor Michael Hall of the Studio Foundry of Driftwood, TX. NSS has several different categories under which the award is presented each year, starting in 1988. Past recipients of the Space Pioneer Award include: Elon Musk, Ray Bradbury, Robert Bigelow, Apollo Astronaut Russell L. Schweickart, Dr. Michael Griffin, the Rosetta Mission Team, the Kepler-K2 Team, the New Horizons Mission Team and the Voyager Mission Team.