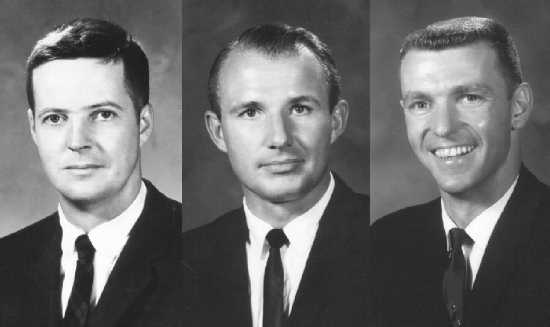 In 1968, these three goobers spent a week pretending they were in space. But why? Read on. NASA portraits. From left, Joe Kerwin, Vance Brand, and Joe Engle.
By mid-1968, NASA was still working on its design of the Apollo command module. In order to make the spacecraft "human rated," NASA needed to stick three guys inside one of its Apollo capsules for a seven-day simulated moon mission. So they picked three then-rookie astronauts – Joe Kerwin (the first U.S. space doctor who flew on Skylab 2 in 1973), Vance Brand (ASTP pilot and future shuttle commander) and Joe Engle (X-15 pilot and general space badass) – and slapped them inside a fake Apollo capsule for an entire week. To NASA's credit, they at least pressurized the spacecraft's cabin and gave them some food and water. On June 16, 1968, these three poor dudes had the hatch slammed shut in their smiling faces at about 11:00 a.m.
The three crew members of "2TV-1" wore pressure suits during the first phase of the "mission"; they gradually settled into typical in-flight garments consisting of thermal underwear and white jumpsuits, which were probably slightly soiled during the mission by food, boogers from sneezes, and shame. Before you come to the quick conclusion that this fake mission was invented to merely troll these junior astronauts, understand that IMPORTANT SCIENTIFIC INFORMATION and engineering data about the Apollo command module were all at stake.
Perhaps having set the Guinness Book record for the world's longest involuntary slumber party, the three intrepid explorers – who hadn't budged from their rather tiny space during that entire period – emerged 177 hours later on June 24 looking like grizzly bears. They hadn't shaved during the preceding week, and probably all wanted to throttle one another. Joe Kerwin undoubtedly wanted to strangle Joe Engle for playing rock music ("But I only like classical music! Stop playing the Animals!"), while Vance Brand wanted to punch both of the men in their stubbly grills for both being named "Joe." Okay, I just imagined that last part; according to NASA, by all reports the men exited the spacecraft in excellent physical and mental health. It is still not known if the three astronauts played the popular military game known as "Which Meal Do You Want The Most When You're Released From This Long Nightmare?" during their stint inside the capsule. (This particular game was impossible to escape during my time in the U.S. Navy, when we were forced to eat awful food for six month stretches with scarcely a delicious hamburger break.)
At this point in NASA's Apollo timeline, the command module now was rated for human flight. The lunar module also required a similar test, but I'll judiciously save that story for another post. 2TV-1 may have never left the planet, but they made plenty of advances in science, engineering, and embarrassing photo technology (if that isn't a field of study, it should be).
They emerged looking like this. From left, a post-mission shot of Brand, Engle, and Kerwin. The shame.
DID YOU KNOW?: 2TV-1's mission motto was Arrogans Avis Cauda Gravis, which from Latin translates to "The Proud Bird with the Heavy Tail," denoting that the mission was not leaving Earth. 2TV-1 commander Joe Kerwin suggested this phrase to describe the mission. Joe probably just thought he was really intelligent and wanted to bust out some Latin phrases to impress everyone, because he's a friggin' doctor. (Note: If you're Joe Kerwin and you're reading this, I AM JUST KIDDING; please, don't sue me.)
---
Emily Carney is a writer, space enthusiast, and creator of the This Space Available space blog, published since 2010. In January 2019, Emily's This Space Available blog was incorporated into the National Space Society's blog. The content of Emily's blog can be accessed via the This Space Available blog category.
Note: The views expressed in This Space Available are those of the author and should not be considered as representing the positions or views of the National Space Society.