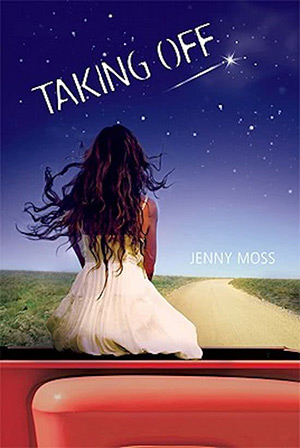 Category: Children's Book
Reviewed by: Marianne Dyson
Title: Taking Off
Author: Jenny Moss
Ages: YA-Adult
NSS Amazon link for this book
Format: Hardbound
Pages: 340
Publisher: Walker
Date: January, 2011
Retail Price: $16.99
ISBN: 0802721931
In 1984, President Reagan's announcement that a teacher was going into space aroused the curiosity and interest of a generation of young people. Many of them thought, if a teacher can go into space, then maybe I can, too. Could any of them hold on to that dream despite witnessing the tragedy of the Challenger explosion in 1986?
In Taking Off, we meet Annie, a high school girl living in the shadow of Johnson Space Center where McAuliffe is training in 1985. It's Annie's senior year, and she can't decide what she wants to do with her life.
Shy Annie reluctantly accepts a dinner invitation to her friend Lea's house where Lea's parents are hosting a party for some astronauts, including McAuliffe. Annie unexpectedly connects with McAuliffe, finding her "so, well, normal." McAuliffe encourages her to consider college, "because if I can get this far, you can do it too." But Annie thinks her dream of being a poet is best kept secret.
This story is not about McAuliffe and the Challenger accident. It is about a teenager from a broken home in need of a role model who is groping with change and choices. Her divorced parents and boyfriend and teachers are all sympathetic, but they have their own troubles to deal with, and Annie knows she must make her own decision about what she wants to do.
As Annie travels with her father and his young friend to see McAuliffe's launch, the reader experiences the profound effect that one person's encouragement and example can have on another's life. Despite the loss of the Challenger's crew, this story is not a sad one. Instead, it captures the lasting impact and legacy of a truly great teacher who inspired us all to "reach for the stars."
Space enthusiasts can rest assured that Author Jenny Moss (a pen name) got all the space and location details right. This is no surprise because she worked as an engineer for NASA during the 1980s (and later) and lived in Clear Lake, where the story is set. So did I, so I know she got it right, even the description of the volleyball games at the Gilruth Center! (Hey, my team even won once!)
Although I may be a bit biased because Jenny is one of my "hometown" writers and friends, as a reviewer with a reputation to uphold, I can unequivocally say that this book is the best young adult novel I've read in years. It's also a wonderful tribute to Christa McAuliffe.
I recommend Taking Off to all young adults interested in history, space, or who are just trying to decide what to do with their lives. I also recommend it to those of us old enough to remember that tragic day in January, 1986. This book reminds us that even in the midst of disaster, some flowers bloom.
© 2011 Marianne Dyson
Please use the NSS Amazon Link for all your book and other purchases. It helps NSS and does not cost you a cent! Bookmark this link for ALL your Amazon shopping!