DVD Review: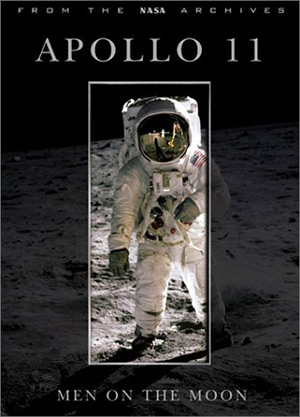 Category: Non-Fiction
Reviewed by: Robert Z. Pearlman
Reprinted from Ad Astra Summer 2007
Title: Spacecraft Films Apollo DVD Sets
Author: Spacecraft Films/NASA
Out of print: See below for Amazon links to few remaining
Format: DVD (11 sets – see list below)
Publisher: Spacecraft Films
Date: 2003-2006
It feels just like it was yesterday: sitting on the carpet before the television set, legs crossed, watching the black-and-white images of two spacesuited men hop up and down on the lunar surface.
Oh wait, it was yesterday.
While millions of Americans—in fact, perhaps billions of people worldwide—shared the experience of watching live the first lunar landings between the years of 1969 and 1972, I was not among them. Born four years too late, my experience—and by current statistics, that of nearly a majority of Americans living today—of NASA's Apollo Moon program has been limited to VHS tapes, TV reruns and the occasional Hollywood production. That is, until now.
Thanks to the efforts of a North Carolina company, the complete, unabridged and newly digitally restored film taken by 12 Americans as they walked on the Moon (and 12 more who orbited it) is now available on DVD. The aptly named Spacecraft Films has been releasing titles for several years now, but it was only recently that they completed the Apollo program—flights Apollo 7 through Apollo 17—with the introduction of a revised and expanded set for Apollo 14, one of their first releases.
The end result is the ability for my generation and generations to come to witness mankind's greatest adventure as was never possible before: back to back, in one monster marathon lasting nearly four days, chronicling every hour spent outside on the surface of the Moon. And that's not including the time spent inside the lunar module, flying to or from the Moon, launching or landing on Earth, press conferences and the five entire missions that never landed, most or all of which is now available for our viewing pleasure.
Mark Gray, Spacecraft Films' founder, has spent nearly as many hours (if not many, many more) unearthing the original footage from within NASA and national archives. You may have read in the news recently of NASA's "missing" its original Apollo tapes—no, they are not under Gray's bed—but if there is footage to be found, Gray has either located it or is on its trail. His DVD sets have discovered film previously forgotten by the public and in restoring it, he has ensured the majority of video documenting our first small steps and giant leaps will never go lost. (Indeed, Gray has been donating copies of his restored work back to the archives for researchers to utilize.)
Spacecraft Films' Apollo sets range from including two to six discs, depending on the mission and how much material was available. Each title has from three hours to over a day's worth of video, organized into chapters and presented chronologically. The sets also include an original narrated documentary produced by Gray to provide those unfamiliar with the missions' histories a comprehensive and engaging introduction before delving into the uncut footage.
There are also "extras" (as bonus features on DVDs have come to be labeled). Watching a Saturn V rocket launch from one angle can be exciting; witnessing it slowly lumber off the pad from more than a dozen time-synchronized views is as close as you come to engineer porn.
Where only audio was available for a particular milestone moment, Gray has dropped in the still imagery taken by astronauts with Hasselblad cameras in what surmounts to the most surreal vacation slide show ever produced. The photo also has the added effect of placing the now famous photographs into the context of a mission timeline. Many know of whom and where the images were taken, but do you know when? (This became particularly useful for Apollo 12, which had television camera problems soon after landing and as such relies heavily on still and training imagery to reconstruct Charles Conrad's and Alan Bean's Moonwalk.)
But bonuses aside, the heart of the material is watching what captivated the hearts and minds of the world 40 years ago: the slow-motion dance of bulky white spacesuits as they skipped, hopped and even drove across our nearest neighbor in the sky. From Apollo 11's historic touchdown at Tranquility Base to Apollo 17's final liftoff from Taurus Littrow, Spacecraft Films' DVDs capture our future by showing our past. It's not by any accident that the company's sets have been bought and watched by many NASA engineers planning for our return to the Moon in the next decade or so.
For me, though, and I suspect for many of my peers, Spacecraft Films has provided the opportunity to step into our parents' childhood shoes and spend many a night mesmerized as the men walk on the Moon, just as if it were yesterday.
© 2007 Robert Z. Pearlman
Links to Spacecraft Films (now out of print):
Please use the NSS Amazon Link for all your book and other purchases. It helps NSS and does not cost you a cent! Bookmark this link for ALL your Amazon shopping!