By George Mancuso
Since the Space Shuttle retirement in 2011 after 30 years of service, NASA has relied on the Russian Soyuz spacecraft for crew transport to the International Space Station (ISS). In 2010, NASA initiated multiple awards for the development of spacecraft to replace the shuttle under the Commercial Crew Program (CCP). The CCP resulted in awards to Boeing and SpaceX to develop spacecraft as directed by NASA and fly missions. Spacecraft are owned and operated by their manufactures with seats being paid for by users. The spacecraft are intended not only for ISS crew transportation but also to facilitate the commercialization of Low Earth Orbit (LEO).
The 2019 Starliner pad abort and orbital flight tests have set the stage for crewed flights in 2020. Discussed herein is a test event summary as well as hardware and funding pertinent to the Starliner and Atlas V launch vehicle.
2019 Events
Pad Abort Test
The Starliner Pad Abort Test occurred on November 4 at the White Sands Missile Range. The test consisted of a ground launch of the spacecraft utilizing the 4 Launch Abort Engines (LAEs), 48 Reaction Control System (RVS) thrusters and 20 Orbital Maneuvering and Attitude Control (OMAC) thrusters. The abort activation sequence included: detachment of ascent cover and forward heat shield; parachute deployment; crew module separation; heat shield detachment; and airbag activation. The test was considered a success, although only 2 of the 3 main parachutes unfurled due to a rigging issue.
Orbital Flight Test (OFT)
The uncrewed OFT utilized a modified United Launch Alliance Atlas V N22 rocket. The launch occurred on December 20 from the Cape Canaveral Air Force Station. An anomaly, however, with the spacecraft Mission Elapsed Timer (MET) resulted in an off-nominal orbit insertion.
The Starliner launch profile is designed to minimize crew g loading and afford more abort options. Consequently, upon release from the Centaur upper stage the spacecraft is placed in a relatively low orbit and requires an OMAC / RCS burn. Due to the MET issue this did not occur which resulted not only in an incorrect orbit but also excessive fuel usage. For some reason, Ground Control could not initially communicate with the spacecraft which prevented them from overriding the situation. Once communication was established the spacecraft was placed in a stable 250 km circular orbit which did not allow rendezvous with the ISS.
Reentry occurred on December 22nd with a nominal landing at the White Sands Proving Grounds (photo at top of article). Although automated docking was not performed with the ISS the performance of many spacecraft systems was verified. NASA is currently reviewing flight data to determine how it compares to design. The results of this review will determine when a crewed flight will be possible.
Information
Starliner Facts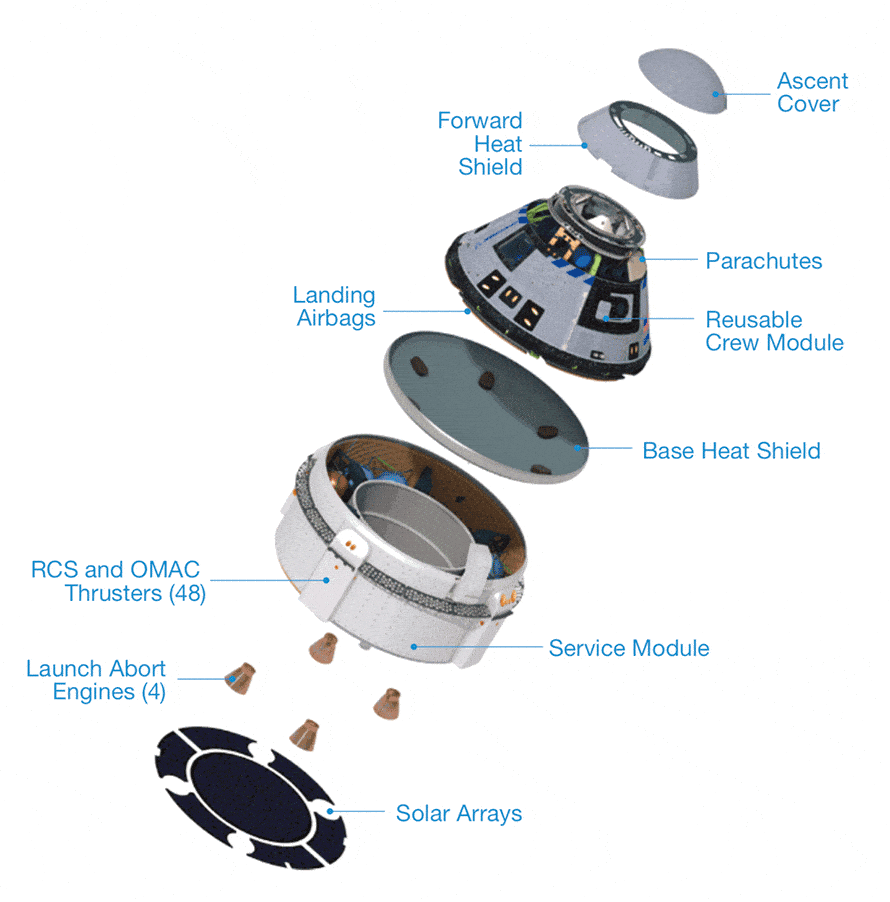 Propulsion
Crew Module:
12 Reaction Control System (RCS) thrusters, 100 pound-force (lbf) each
Service Module:
28 RCS thrusters, 85 lbf each
20 Orbital Maneuvering and Attitude Control (OMAC) thrusters, 1,500 lbf each
4 Launch Abort Engines, 40,000 lbf each
Dimensions
Starliner Height: 16.5 ft (5.03 m) (Crew Module + Service Module)
Starliner Diameter: 15 ft (4.56 m)
Seat Agreements
Starliner can accommodate a maximum of 7 individuals, which would only occur in the event of an ISS evacuation. A complement of 4 will be the normal crew size, with Boeing having the option of selling a fifth seat. For operational missions under the international agreement terms, Starliner will always carry a NASA astronaut and Russian cosmonaut. The remaining two seats may be taken by NASA astronauts or international partners.
Atlas V N22 Facts
Starliner is launched on a modified Atlas V rocket designated the N22. Notable changes to a standard configuration include the addition of the Launch Vehicle Adaptor, Aeorskirt and two-engine Centaur upper stage.
Propulsion 
RD-180 booster engine – 860,000 lbf
2 solid rocket boosters – 380,000 lbf each
Dual RL-10 Centaur engines – 46,000 lbf
Dimensions
Atlas V Starliner total height – 171 ft (52m)
Boeing Commercial Crew Program (CCP)
The Boeing CST-100 Starliner development was contracted by NASA under the CCP as authorized under the Space Act. The purpose of the CCP was to develop reliable and cost-effective spacecraft for human transportation to low-Earth orbit and ISS.
NASA awarded more than $8.2 billion in contracts to several companies through the use of Space Act Agreements (SAAs). Contracts included: two Commercial Crew Development (CCDev) rounds; the Commercial Crew Integrated Capability (CCiCap); Certification Products Contract (CPC); and Commercial Crew Transportation Capability (CCtCap).
A summary of each Boeing contract round is shown below, totaling just over $4.2 billion.