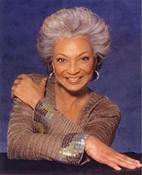 Nichelle Nichols
1932-2022
Former member of the National Space Society Board of Governors
Nichelle Nichols hailed from Chicago, Illinois, where she was discovered at the age of 15 by Duke Ellington while serving as choreographer and dancer in a ballet for one of his musical suites, and doing a stint as lead singer for his band. Later, Nichols performed in the U.S., Canada, and Europe, including a guest spot singing with Lionel Hampton.
When Gene Roddenberry cast Nichols as Lt. Uhura in his now legendary TV series Star Trek, Nichols found herself in a role that would change her life. After seven blockbuster Star Trek motion pictures, Nichols is in constant demand to appear before the millions of "Trekkers" who keep the dream alive around the world. Far from being her only role, Nichols has also starred in the Sandy Howard Film The Supernaturals, and in the touring Broadway hit Horowitz and Mrs. Washington. Live theater performance continues to be a favored venue for Nichols. Twice she has been nominated for the Sarah Siddons Award for Best Actress for her performances in Jean Genet's The Blacks and Kicks and Company.
In 1991, Nichols became the first African American to place her handprints and signature in the concrete outside Mann's (Graumans) Chinese Theater. Just a few short weeks later, in January 1992, Nichols was awarded a star on the Hollywood Walk of Fame. The occasions were marked by two especially treasured congratulatory messages: one from Whoopi Goldberg, and the other from Mae Jemison, the first African-American female astronaut. Both women credit Nichols with the inspiration to begin their careers. Additionally, along with the Enterprise crew, Nichols has been given an unprecedented accolade: an exhibit in Smithsonian's National Air and Space Museum.
A talented singer, writer, actress, and performer, Nichols' public service activities have been equally worthy of note. Nichols has served as a member of the Board of Directors for the National Space Institute (now the National Space Society), and been active in the leadership of the Space Cadets of America, an organization for young people interested in space and space careers. Through her consultant firm, Women in Motion, Inc., Nichols was instrumental in the NASA Astronaut Corps pioneering effort to break away from their all-white, all-male past. She received NASA's distinguished Public Service Award for her efforts and continued success.
In 1994 she published her autobiography, Beyond Uhura: Star Trek and Other Memories. She has also authored the first two volumes of what is expected to become a science fiction trilogy: Saturn's Child (1995) and Saturna's Quest (2002).